The recent massacre that happened in Virginia Polytechnic Institute and State University has sparked another debate regarding gun control in United States.
I believe that the gun control law should be implemented. Why? Because guns make the bully and the one being bullied equal. And please note that guns are dangerous, they kill… especially in the hand of the depressed person. So which one is the depressed one? Listen to the following conversation:
Bully A (James): Hi Joe ..
Bully B (Joe): Hi James. What's up with you?
Bully A (James): I'm depressed Joe ..
Bully B (Joe): Why? I thought bullying is fun. Did you bully too many or too few kids? Or is it you stressed because your bullying method is become a routine, no longer excites you? Do you need new bully targets with different demographical background compared to the current ones?
You see? Above conversation is too hilarious to be true. Now consider the person who was bullied:
Bullied Guy: Sigh ..
Imaginary Friend:What's up with you?
Bullied Guy: I'm depressed … I was bullied again today. ARRGHHH… I want to kill myself …
Imaginary Friend: I have a better idea. Why don't you buy guns and kill the one bullied you. This way, you can make a payback to him. You also might want to consider shooting random people to build the tension. In the end you could shoot yourself. This way, you will get what you've just said.
Coincidence? I think not. There is a pattern here. Bullied people are depressed. So it's really dangerous to let them having access to gun. Consider the following illustrations:
Bullying Scene Without Gun Control Law: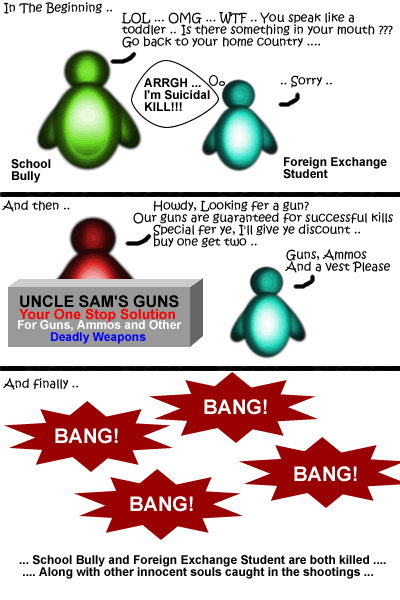 Bullying Scene With Gun Control Law: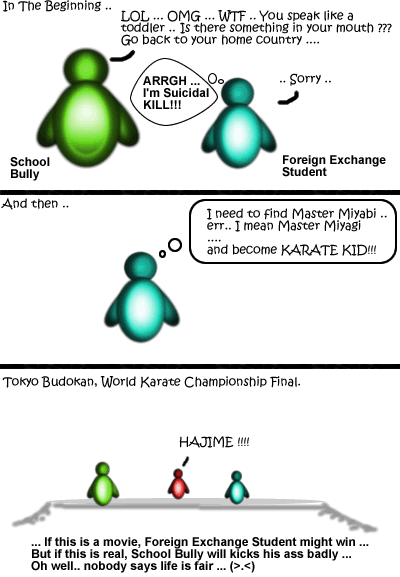 So why do we need Gun Control Law if only the bullied is the dangerous one? Because when the moment come, the Bully will be bullied by the Bigger Bully. The smaller bully will get depressed, losing his bully friends and ended up having an Imaginary Friend. And the deadly circles will continue…
CONCLUSION: Gun Control must be implemented, this way we will only have Bully and Karate Kid. No more mass murderer, School massacrer, random sniper, etc, etc.
That's what I think, so what do you think?
GD Star Rating
loading...
This is Why United States Should Implement Gun Control Law

,
About Hardono
Hi, I'm Hardono. I am working as a
So
ftware
Deve
loper. I am working mostly in Windows, dealing with .NET, conversing in C#. But I know a bit of Linux, mainly because I need to keep this blog operational. I've been working in Logistics/Transport industry for more than 11 years.
Incoming Search
historieta del bullying