An interesting entry show up in Akismet's spam list:
It is interesting that it end-up blocked by Akismet, even though it doesn't mention any product, or linking to a questionable website, it simply links to Kelli's Wikipedia page. Earlier discussion mentioned that it was the email address that causing the block.
Who will benefit from such action? Will Kelli Garner became more famous by gaining notoriety as a spammer? One could not forget how Paris Hilton become everyday conversations because of her sex tape leaked. So yeah, you can become famous by gaining notoriety. The more notorious you are, the more publicity you'll get. Bad publicity, good publicity, all kinds of publicity, there is no such thing as bad publicity.
Or could it be someone else profited? If yes, in what way? Or is it just someone who is trying to be her biggest fan by dedicating her/his life promoting Kelli?
Another possible explanation is someone actually have planted something malicious at her Wiki page, which will be triggered whenever a person visit that page? Which is to me, a very likely explanation. Is this a Zero Day attack?
Anyway, the spam origin was from server which is apparently located at Prague, Czech Republic.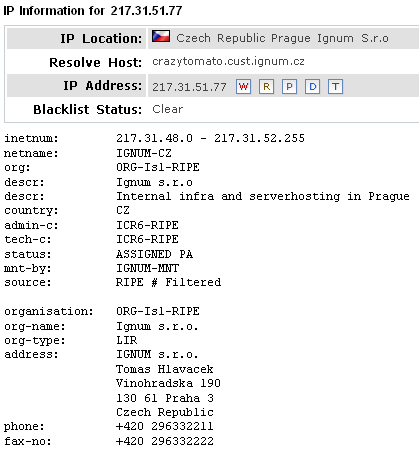 PS: This post is now officially unintentionally became part of the publicity machine.
GD Star Rating
loading...
About Hardono
Hi, I'm Hardono. I am working as a
So
ftware
Deve
loper. I am working mostly in Windows, dealing with .NET, conversing in C#. But I know a bit of Linux, mainly because I need to keep this blog operational. I've been working in Logistics/Transport industry for more than 11 years.