Me and my wife recently went back to Indonesia for our wedding celebration. We took Air Asia which connects Singapore to Jogjakarta. We deliberately choose to take flight to Jogjakarta because we wanted to visit my wife's relatives in Purwokerto.
The plan was to fly to Jogjakarta, continued by taking train to Jombang. Have the wedding ceremony and visit relatives in Jombang and Surabaya. We then take train/bus back to Jogjakarta, check in to a hotel and left our luggage at there, take bus or train to visit Purwokerto, visit relatives, return to Jogjakarta. And finally fly back to Singapore.
Anyway, my hair was a bit untidy that time. I did planned to get haircut in Singapore, but due to some reason–mainly forgetful and laziness, it did not happen. It was important to get my hair tidy before we have the wedding ceremony.
While waiting for Sancaka–the train that will take us from Jogjakarta to Jombang, I decided to take a haircut. It was 2.30 PM and Sancaka will depart at 4 PM. I need to find barbershop nearest to the railway station.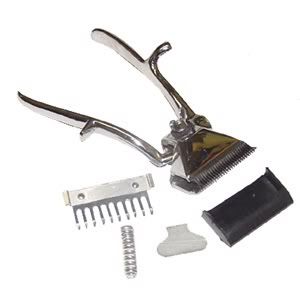 The nearest barbershop from Tugu Railway Station is located in Malioboro Street, next to Ramayana Department Store. The barbershop was buried behind many street-vendors selling batiks and handicrafts which Malioboro street famous for. It was quiet inside. No one is queuing to get their haircut. There are many seats and mirrors with slight dust covering them. The wall was yellowish signifies that this place was a famous barbershop years ago.
The barber was an old folk called Pak Dar (Darminto?). I greeted him and asked him to tidy up my hair. He agreed and asked me to get seated, while taking out his equipments. One of the equipments was a manual hair clipper, which reminds me my childhood where every haircut was done using this traditional manual hair clipper.
To cut the story short, it was a nightmare. No offense to Pak Dar–he is a polite folk just like any normal Javanese folks do, but the haircut was a torture. It was a combination between hair-cut and hair-pluck. Not able to withstand the torture, I politely requested him to stop, stating that my hair is short and tidy enough. Another haircut in Jombang was already planned in my mind.
I paid him Rp. 9000 then proceed to accompany my wife who was already busy picking and bargaining all kinds of Batik clothes for herself and my sister-in-law.
When Sancaka reached Jombang Railway Station at 8.30 PM, my cousin (Mas Aan) was already there sitting at the bench next to the tracks. After greeting him, I requested him to send me to the nearest barbershop.
The nearest barber shop was located at the opposite of Geneng Gang 2, near Mas Aan's mother house. The barber was slightly the same age as me. He was using electric hair-clipper, which was a great relief for me. I was very much satisfied with his meticulous and tidy work. I paid the fee of Rp. 5000 as it written on the mirror.
Later in the car Mas Aan ask whether I remember the boy I used to pick a fight whenever I visited his house 20 years ago. I said I forgot the boy, but I remember the fights. He then said that that boy is the barber that just cut my hair. Ha-ha… what a relief that the barber did not recognize me; it could have been another episode of Sweeney Todd 🙂
Haircut in Singapore …. SGD 7-10
Haircut in Jogjakarta …. IDR 9000
Haircut in Jombang … IDR 5000
Getting the best and cheapest haircut without having your throat slit …. Priceless
😀
GD Star Rating
loading...
The Cost of a Haircut

,
About Hardono
Hi, I'm Hardono. I am working as a
So
ftware
Deve
loper. I am working mostly in Windows, dealing with .NET, conversing in C#. But I know a bit of Linux, mainly because I need to keep this blog operational. I've been working in Logistics/Transport industry for more than 11 years.