Walaupun pemberitaan mengenai LPI banyak sekali di Kompas, tapi tabel klasemen di halaman Liga Indonesia hanya menampilkan tabel klasemen LSI. Apakah Kompas belum berani menampilkan klasemen LPI? Apakah Kompas ditekan oleh PSSI untuk tidak menampilkannya?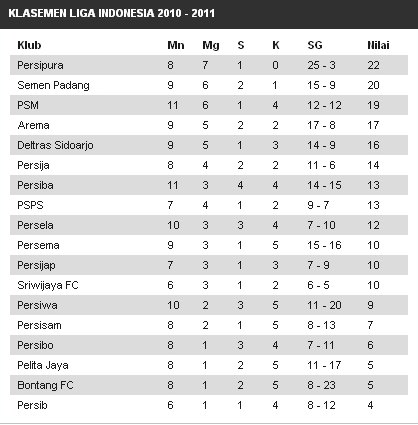 Note: Website LPI sendiri belum mengupdate tabel klasemen, padahal ada 2 pertandingan yang sudah berlangsung.
Bagaimana menurutmu?
GD Star Rating
loading...
LPI ilegal menurut Kompas?

,
About Hardono
Hi, I'm Hardono. I am working as a
So
ftware
Deve
loper. I am working mostly in Windows, dealing with .NET, conversing in C#. But I know a bit of Linux, mainly because I need to keep this blog operational. I've been working in Logistics/Transport industry for more than 11 years.
Incoming Search
liga kompas