As I previously speculated, being a pirate is much better than a landlubber.
I found out this amazing diagram which is showing that the experience as a honest, paying customer is much worse compared to those who downloaded pirated copy.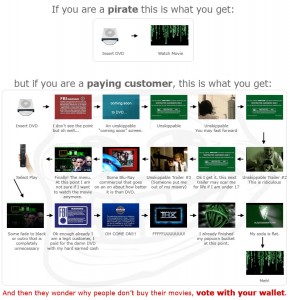 *) Source
GD Star Rating
loading...
Drink 'Up Me Hearties Yo-Ho

,
About Hardono
Hi, I'm Hardono. I am working as a
So
ftware
Deve
loper. I am working mostly in Windows, dealing with .NET, conversing in C#. But I know a bit of Linux, mainly because I need to keep this blog operational. I've been working in Logistics/Transport industry for more than 11 years.