I've discussed about Google Sets in the past.
Say, you are looking for other words that associated with 'denial, anger, ….etc'. You've read it somewhere, but you forget the URL. Thesaurus couldn't help you. You totally don't know that it is actually something called Stages of Grief

So what would you do?

Google Sets might be able to help you. Google Sets will return words related to the one you supplied. I submitted 'valuair', and interestingly Google Sets return almost all the names of airlines in South East Asia region.
I am now sad that I found out that Google Sets has been shutdown.
But I am happy to find that although the website of Google Sets is gone, its spirit is still linger around. You can found it working inside Google Spreadsheet. You can try this by typing one word in a cell. Then press Control button, and drag the corner of that cell down.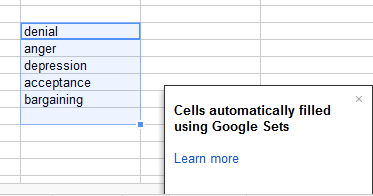 I hope it's useful to you, Cheers!
GD Star Rating
loading...
Google Sets Is Reincarnated In Google Spreadsheet

,
About Hardono
Hi, I'm Hardono. I am working as a
So
ftware
Deve
loper. I am working mostly in Windows, dealing with .NET, conversing in C#. But I know a bit of Linux, mainly because I need to keep this blog operational. I've been working in Logistics/Transport industry for more than 11 years.