Dear Readers,
Today I want to share with you a very useful tool to instantly switch your Windows/Ubuntu hosts file. If you're unfamiliar with the term 'hosts file', this WIKI should help.
Anyway, by using this tool you can immediately switch to a new hosts file, by at most two clicks of mouse (actually, it is one click and one double-clicks :P). No installation needed, but you will need a full-write access to your hosts file.
Other than that, depending on your Operating System, you might need:
Windows:

.Net framework 2.0 and upper.

Linux:

Mono 1.2 and upper
root access
nscd Service
ifconfig commmand
Here is how the main interface looks like: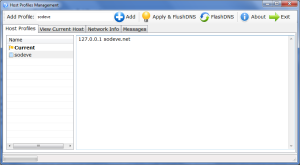 Really simple right?
Interested? You can visit and download it at: Host Profiles @ Codeplex . It's FREE! And it's open source too.
Have a great weekend everyone, Cheers!
GD Star Rating
loading...
Instant Hosts File Switcher For Windows & Ubuntu

,
About Hardono
Hi, I'm Hardono. I am working as a
So
ftware
Deve
loper. I am working mostly in Windows, dealing with .NET, conversing in C#. But I know a bit of Linux, mainly because I need to keep this blog operational. I've been working in Logistics/Transport industry for more than 11 years.