Recently we deployed a batch of new Windows 7 x64 PCs for our new operation. A few of them need to access our legacy Transport Management System. The legacy TMS is mostly working fine in IE 10, except for few report pages.
For some reason the report didn't load. Internet Explorer barfed the following error windows.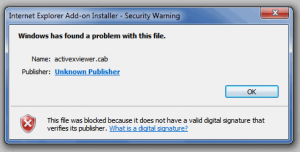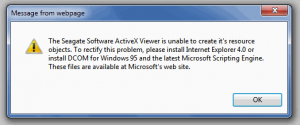 My colleague asked me to resolve this error. He also reminded me that I've resolved this very same error before, which I objected. I guess no point to argue, as I still really need to resolve this regardless. My first step, Google it! 😀 Using the first sentence in the error message as the keywords gave a plenty of result. As I iterating the search result, I suddenly remember that I did solve this problem before. I also remember that I almost blog about it, but decided to cancel it because I thought it's too simple to worth a blog post (And this is coming from a person who blogged about a single photo, whoa, and a pun. Good God, I'm a lousy writer) :D.
I guess it is really a moment of "If I don't blogged it, I surely forgot it"™.
Anyway, to solve this problem we need to open Internet Explorer's Advanced Options. Under Security, you need to untick the "Allow software to run or install even if the signature is invalid".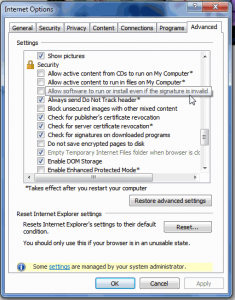 After installing the Crystal Report ActiveX control, please tick back this option to prevent you from installing malicious ActiveX from Internet.
I hope it helps, cheers!
GD Star Rating
loading...
Solved: Seagate Crystal Report Viewer failed to load on IE 9 + Windows 7

,
About Hardono
Howdy! I'm Hardono. I am working as a
So
ftware
Deve
loper. I am working mostly in Windows, dealing with .NET, conversing in C#. But I know a bit of Linux, mainly because I need to keep this blog operational. I've been working in Logistics/Transport industry for more than 11 years.