2016
05.05
Today I installed Ionic Pack for Visual Studio 2015. This extension will provide IntelliSense when editing Ionic's HTML source code.
Unfortunately, this extension will clashed with ReSharper's HTML IntelliSense. Here's how to disable it.
Open ReSharper's Option

Select IntelliSense -> General

Select Custom IntelliSense

This way, I enable ReSharper only when editing .cs files. And it works!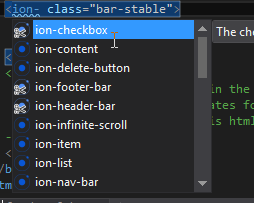 That's all. I hope it helps.
GD Star Rating
loading...
How to disable ReSharper's HTML Intellisense

,