Today I encountered a strange problem when debugging our company's Ionic Android web app. Inside chrome://inspect tab, I clicked the inspect link for the app.

The pop-up window was totally blank. Puzzled, I clicked the blank window and press Ctrl+Shift+I to inspect the blank Inspect window (Inspect-ception, if I may 😀 ). And voila, the errors revealed:

When I googled the error message, the first result was this forum post which was posted 5 days ago (8th March 2018). Skimming through the comments, it seems the problem will be fixed by updating Chrome. True enough, when I go to Help -> About Chrome menu, it asking me to update.

After the download completed, click the RELAUNCH button to restart Chrome.

SOLVED!!!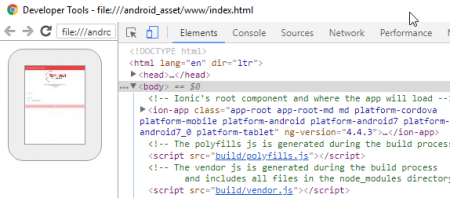 About Hardono
Hi, I'm Hardono. I am working as a
So
ftware
Deve
loper. I am working mostly in Windows, dealing with .NET, conversing in C#. But I know a bit of Linux, mainly because I need to keep this blog operational. I've been working in Logistics/Transport industry for more than 9 years.