Donate to community chest in effort to combat COVID-19:
[Sent by Gov.sg – 13 Feb]

💪 🇸🇬 Helping those impacted by COVID-19:

Contribute to The Courage Fund
– To help those impacted by COVID-19 — patients, healthcare workers and those who need extra support

www.comchest.sg/thecouragefund

Go to the centralised online platform for ground-up efforts
– Information on what's needed
– Information on ground-up groups and Govt-led initiatives
– Details on platform soon

Let's show support for all in the healthcare and other sectors who have been working tirelessly. Look out for one another.
#SGUnited
I've chip in a little amount, you should too!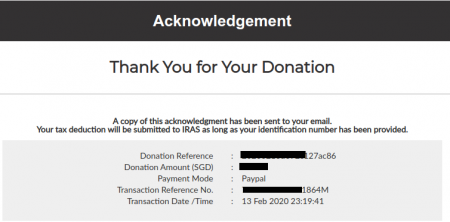 Update on number of positive cases:
[Sent by Gov.sg]

COVID-19: 13 Feb Update

New cases: 8, as of 12pm
Total confirmed cases: 58
Total discharged: 15

The eight new cases are all linked to previous cases. Most still in hospital are stable or improving. 7 are in ICU.

More: Go.gov.sg/moh13feb

Support package for taxi + private hire car(PHC) drivers
– Taxi and PHC drivers' livelihoods have been badly affected
– To help them, Govt + taxi and PHC Operators will launch a $77 million Support Package
More: Go.gov.sg/drivers-support

Thank you for subscribing to this service. From tomorrow, you'll receive 2-3 messages daily, with the first one around mid-morning.
Clarification on the number of death due to COVID-19:
[Sent by Gov.sg]

COVID-19: No deaths in S'pore so far

A graphic was earlier shown on CNA news, wrongly indicating that there was 1 death due to COVID-19 in Singapore.

CNA has since corrected the error.
go.gov.sg/CNA-clarification

There have been no COVID-19 deaths in Singapore so far.

For the latest updates: Go.gov.sg/covid-19
GD Star Rating
loading...
Singapore Update on COVID-19 13 Feb 2020

,
About Hardono
Hi, I'm Hardono. I am working as a
So
ftware
Deve
loper. I am working mostly in Windows, dealing with .NET, conversing in C#. But I know a bit of Linux, mainly because I need to keep this blog operational. I've been working in Logistics/Transport industry for more than 11 years.
Incoming Search
covid-19 singapore update, how singapore is dealing with covid-19