Here's my summary of this short course offered by LinkedIn.
What is Business Analysis?
Practice of enable change in the context of an enterprise by defining needs and recommending solutions that deliver value to stakeholders.

-International Institute of Business Analysis
To be a good business analyst, you need to have the following skills:
Facilitation. The skill of designing and running productive meetings based on previously agreed requirements.
Problem solving. Not only by providing solution, but also find the root cause of the problem.
Negotiation. Different stakeholders might have competing agendas. So it's important to identify the common ground or bigger purpose, which will help to achieve mutually agreeable decisions. Ability to remove emotion from decision making process is important.
Industry and organization knowledge. By having these knowledge, the analyst will be able to design better solutions by asking informed questions, probing deeper, and having a wider vision. It will also help to maneuver the organizational cultures when working with stakeholders
All in all, it was a 21 minutes quite well spent. They also gave me a certificate: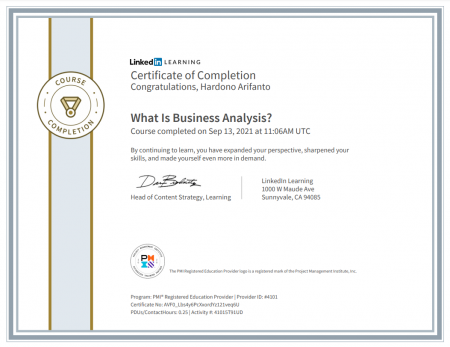 GD Star Rating
loading...
What Is Business Analysis

,
About Hardono
Howdy! I'm Hardono. I am working as a
So
ftware
Deve
loper. I am working mostly in Windows, dealing with .NET, conversing in C#. But I know a bit of Linux, mainly because I need to keep this blog operational. I've been working in Logistics/Transport industry for more than 11 years.