I was invited by Arif to attend Christ Church Secondary School Annual Dinner. The dinner was held in a Country Club in Yio Chu Kang area. The dinner was also intended for LMS launch. I was invited because I was the main developer of LMS.
Our main course was this one whole chicken in a bowl. So Isti actually get more since she is pregnant (hence the counted as two). Hopefully her baby will become a beautiful and healthy baby.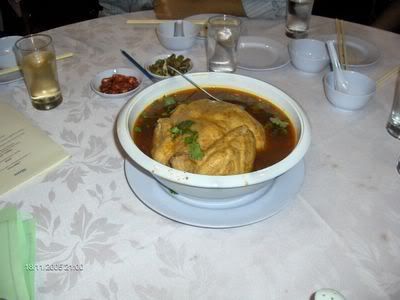 UPDATE: Isti has delivered her son. And the son share same the birthday with me .. Hehehe…
About Hardono
Howdy! I'm Hardono. I am working as a
So
ftware
Deve
loper. I am working mostly in Windows, dealing with .NET, conversing in C#. But I know a bit of Linux, mainly because I need to keep this blog operational. I've been working in Logistics/Transport industry for more than 11 years.